Meet our CTO!
To kick this series off, Talent Acquisition Manager Sarah Berlin met with our amazing, wonderful and eminent CTO Michael Fagré!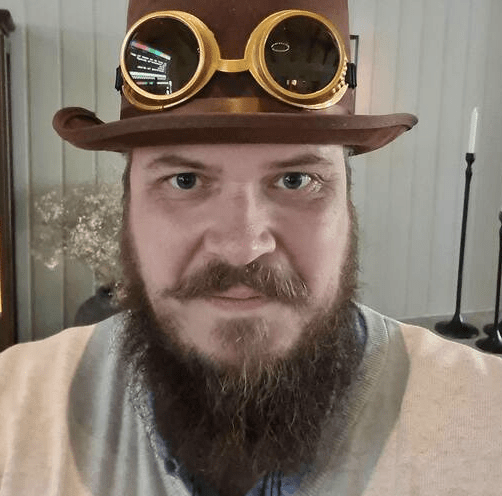 When having an online meeting with our fantastic CTO Michael, you never know which cartoon might pop up on the screen in front of you. Today, I was delighted to have the first few seconds of our meeting with a highly realistic cartoon fox! This is always a good way to start a meeting, it gets us all in a very good mood.
To really get to know him I asked him a few questions about his previous experience and his management philosophy. We also dug into his current position as CTO here at Paligo but I could of course not leave our meeting without asking him a few, very vital, personal questions..
Michael has since a very young age been interested in all things technology. He got his first computer at 8 years old and immediately started to play around with basic programming, and with a big creative interest and with an interest in the way things actually work he quickly found his life's passion! Even whilst studying electronic engineering he was always developing his skill in coding and programming (during this day and age, electronic engineering was as close as you got to a computer science degree(!)).
He then took a turn and worked for a while within Sales and technical support before he made up his mind that he'd very much like to have his passion as his full time job.
Before Michael started his journey at Paligo he had been working in a variety of positions, all of course, within his favorite area - programming and coding. He has been working at multiple companies where he has developed and grown his team, leading them from start-ups and then to transform them into big corporate organizations.
By now I was more curious about his choice to move companies, so I asked him what it was that made him join Paligo.
"That feeling of a start-up culture! The open mindedness, the feeling that you and all your colleagues work in a non-hirarki way and that all of us can actually influence the organization. That the people are driven and get sh*t done together, we laugh together and we cry together! I was motivated by the fact that the founders are still active in the company, but the position as CTO would still be challenging as we are in a highly expansive phase. But to work with people you like in a friendly environment would make everything so much easier."
I then asked him to clarify his role as Paligos CTO for me, and what his team looks like.
"The position as CTO has many layers, high and low. But I am ultimately responsible for Paligos RND and development (which is where my passion lies), which is basically all Paligos technical needs.
I'm managing several teams in my department and we have colleagues all around the world, from Sweden and Cyprus to Canada. We are a truly international team but we also strive to be working together as closely as we can to really become a tight knitted team, which is vital for us because of all cross-functional departments within the company. We'd like to offer office space to make our cross-functionality easier and more fun!"
Michael also believes that if you really stick your mind to it, there is nothing that you can not learn. This is the way he got into the business and that is the way he wants to develop his team!
This made me interested in learning more about his teams, what long term goal does he have for them, how do they develop their skill set and what management philosophy does Michael live by?
"I, of course, have a big responsibility towards the company itself with various deliverables. But my personal goal for my department is that every person shall feel as though they are a vital part of something bigger than themselves, like a player in the best football team in the world, Liverpool. That they feel pride in their work and joy in what they do and that everyone can feel free to be themselves!
In terms of developing my teams and their skill sets there is no "one way". Everyone is different and on different paths, but I believe that if you have a genuine interest in what you do, it becomes natural for you to strive to continue to develop within that area. My challenge and my responsibility is to support them the best way possible, to inspire them and to find the right way for the right person. My job is to give them all the right conditions.
My management philosophy is simple: I know that I have succeeded if the people in my department can't wait to go to their jobs in the mornings. I am my department's motivator, I'm supposed to be there for them, to make their working lives easier. My way to do so is to hire driven people who'd also like to work with their passion. My ability to succeed lies 100% with my department and their success."
Now that I'd gotten to know Michael a bit better I asked him about Paligo, what is the best part of working there and what are the company's biggest strengths in his opinion?
"Oh that's a tough question (which I obviously knew it would be), but I really like working with other highly driven people. I also love the part of my job where I get to see other people grow within their area of expertise and to help them get the opportunity to grow further!
I would say that one of Paligos biggest strengths is our highly competitive product in which I believe very much. The company has a great long journey ahead, both technically and functionally speaking which I find very interesting and exciting. But other than that, the people are definitely our biggest strength! The culture is healthy and with the friendly atmosphere you get a feeling of excitement when traveling to work."
By now me and Michael were at the end of our session but I manage to ask him 3 quick questions to get to know him just a little bit more:
What is you go to feelgood song: "Oh boy" by Peps Persson. Always makes me smile!

What is currently your biggest craving? I'm such a sucker for Sushi, so having Sushi at a restaurant with at least 3 Michelin stars.

Name one series you can't live without: Wow, so many! But right now I would say "The Wire" which is an old series but somehow I missed it and it is fantastic!